Summer top for women. Free knitting pattern.
Hello, friends.
Today we'll publish the next knitting pattern free to download from our cycle (https://knitinspire.com/blog/20?c=10).
This is a summer top for women. The size of the garment is M / EU 40 / US 8 / GB 12. The top is made with comfortable summer yarn: a mixture of linen, cotton, and viscose.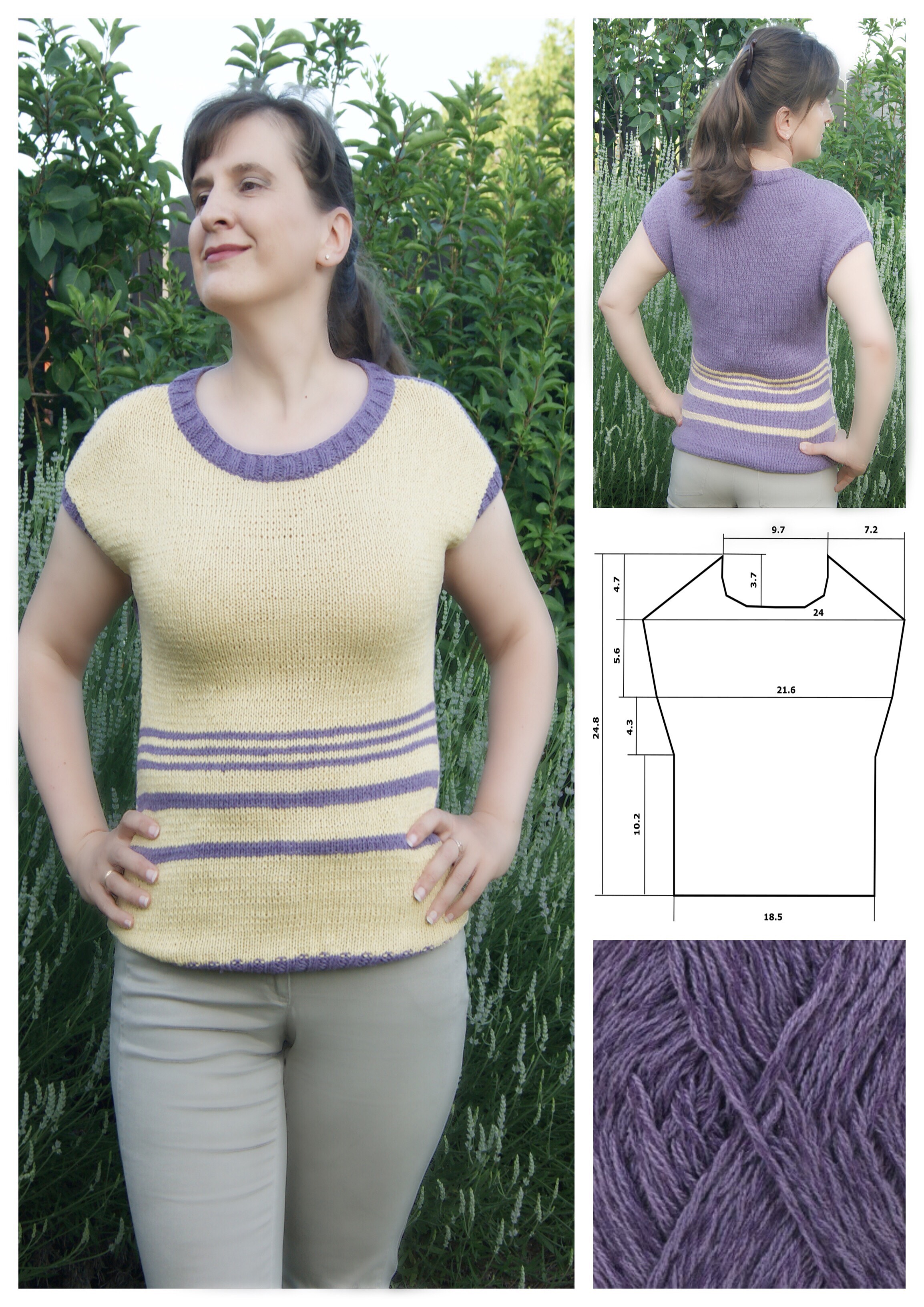 The basic dimensional data of the figure for which the pattern was created:
| Basic measurements | inches | cm |
| --- | --- | --- |
| full length | 25.6 | 65 |
| bust circumference | 36-39 | 92-100 |
| hips circumference | 36-39 | 92-100 |
| shoulder-line length | 8.7 | 22 |
| neckline length | 25.6 | 65 |
| intended ease | 1.6 | 4 |
The top has a drop shoulder (elongated line of the shoulder), a round neckline, and a straight silhouette. The neckline, armholes and the bottom of the top are trimmed with a 2x2 rubbed band. The front of the top is knitted of yellow yarn, the back is purple. Both parts have decorative stripes of the opposite color. All ribbed bands are made of purple yarn.
The pattern is suitable for yarn length 120-140 yards (110-130 meters) per 50 g (1.8 oz.) - DK, sport yarn and knitting needles in the size US-4 (3.5 mm). Knitting gauge is 20 stitches & 26 rows in 4 inches (ca.10 cm) (Stockinette stitches). The total amount of yarn required for a top is 807 yards (738 meters).
If you are interested in the pattern, you can download it right here. We do not require registration or other actions from you.
In the next post, we will publish the summer top for the girl (3-4 years old).
This knitting pattern was created using online knitting software.
On the links below you will find other knitting patterns from the cycle:

If the size, style, yarn does not suit you in this project, you can fill out the form at the end of the post and send it to us. We are fast and free to recalculate the project for your parameters and send you a new pattern. You will only have to knit your garment using the pattern.
Comments: