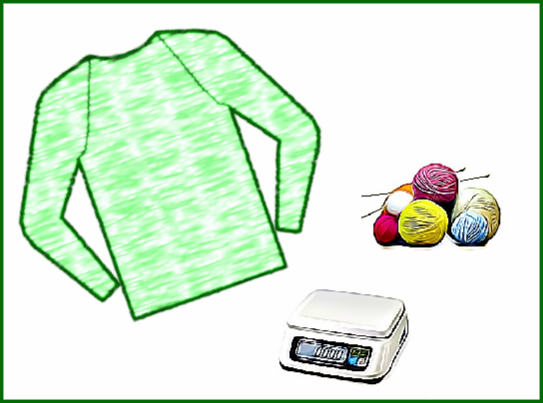 This article will tell you how to determine yarn consumption for different kinds of articles
Yarn is the main consumable material when knitting a garment. Therefore, it is desirable to know beforehand how much yarn you will need to make it.
There is a method for calculating yarn consumption based on a swatch. It will not be considered it in this article because it takes much time and effort. We will tell you about the method later.
Here, we offer some comparison tables where yarn consumption is specified in meters depending on the size and type of the article and yarn thickness.
The first table shows approximate yarn consumption for a pullover/cardigan of medium length (about 65 cm) for adults with a medium tight fit 5 cm.
Table 1

For a short sleeve pullover/cardigan, yarn consumption should be decreased by 20% of the value indicated in table 1. If you are knitting a sleeveless pullover, reduce yarn consumption by 30%.
To knit a straight skirt 60 cm in length, you will need 15-20% less yarn than the amount indicated in the table. And you will need 30-40% more yarn to knit straight long trousers.
The following table provides data on yarn consumption for children's pullovers/cardigans. Age of children is 1 - 12 years old.
Table 2

It should be remembered that babies and toddlers have different body proportions. Therefore, if you want to knit a short sleeve pullover for a child aged 1-4 years old, yarn consumption should be decreased by 15% of that indicated in Table 2 and for a sleeveless pullover – by 20%. As the age increases, the said percentage increases too and becomes closer to the proportions specified for adults.
The difference in body proportions should also be taken into account when knitting children's skirts and trousers. Thus, when knitting a straight knee-length skirt for a girl aged 1-4 years old, yarn consumption should be reduced by not more than 10% of that specified in Table 2. While for a 10 year old child the percentage is 20%.
For trousers, the situation is quite the opposite: for children aged 1-4, yarn consumption should be increased by 5%, while for children aged 10 – by 15-20%.
The table below shows approximate yarn consumption for hats (round shaped, with small turn-ups)
Table 3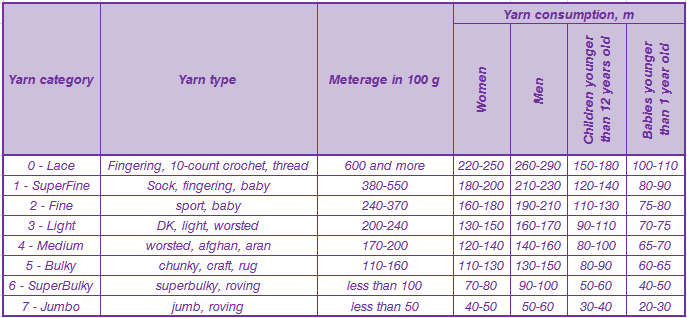 In order to determine yarn consumptions for scarves, wraps, shawls and other square or rectangular shaped articles, we provide a table showing yarn consumption for articles with an area of 1 m2 (10000 cm2). In order to put the data provided in the table into practice, you need to know the area of your article in m2 or cm2. For example, a scarf 30 cm in width and 200 cm in length will have the area of S=30*200=6000 cm2 or 0.6 m2. Accordingly, the value from the table corresponding to your type of yarn should be multiplied by 0.6.
Table 4

ATTENTION: In all tables, yarn consumption is specified for stockinette stitch pattern made with knitting needles.
For bulky patterns (cables, arans) as well as for multicolored patterns, yarn consumption should be increased by 10-20%. Openwork patterns require 10-20% less yarn consumption.
For crochet (single crochets), yarn consumption can increase almost twice. For other patterns, an increase of yarn consumption will be less significant.
For Tunisian crochet in Tunisian simple stitch, increase yarn consumption by 30-50% of that specified in the tables.
Machine knitting (if the fabric is not knitted too tightly and stockinette structure/stockinette stitch pattern is used) requires 5-15% less yarn than needle knitting. When other patterns/weaves are used, yarn consumption will vary: to a smaller value for openwork patterns and to a bigger value for textured patters.
You can always get an accurate calculation of yarn consumption on our website. It is fast, simple and reliable.
Have a nice trip to the world of knitting