As has been mentioned before, when knitting with needles, stitches are formed using two main methods:
creating knits
creating purls
All main types of stitch patterns are based on them.
Another method of forming a new stitch is yarn over . Yarn is just brought over the needle between two existing stitches. Yarn overs can be normal (the yarn is brought over the needle away from your body) (see Fig. 1) and backwards (the yarn is brought over the needle towards your body) (see Fig. 2).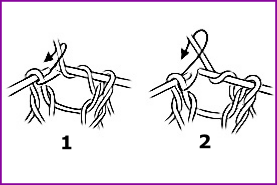 Unless otherwise specified in the description, normal yarn over is meant. Backwards yarn overs are usually made on the back side of fabric. In the next row, yarn over is most often knitted as a purl unless indicated otherwise. Knitted yarn overs create holes in the fabric. When a great number of yarn overs are made, the fabric is openwork (lace). Therefore, stitch patterns based on yarn overs are called "openwork"/"lace" stitch patterns. Yarn overs can also be double: the yarn is wrapped around the needle twice and the holes formed are bigger than those made by single yarn overs. An example of openwork/lace stitch pattern is shown in Fig. 3.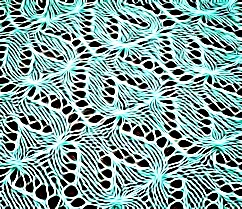 The simplest stitch patterns are those "based on knits and purls" without any extra techniques (crossing, twisting, combined knitting, etc.). Three main weaves based on these stitches have already been described ("garter stitch pattern", "stockinette stitch pattern", "reverse stockinette stitch"). Other stitch patterns are created by means of alternating knits and purls in a single row. Although stitch patterns of this kind are simple to knit, they can look very fancy in the fabric. Different configuration of knits and purls makes patterns look very impressive or they may create "shadowy" effects without any prominent relief. You can use stockinette stitch pattern as the basis to make patterns on it in reverse stockinette stitch or garter stitch. You can also do the other way: the main fabric can be knitted using garter stitch pattern or reverse stockinette stitch and patterns can be made in stockinette stitch. An example of a stitch pattern based on knits and purls is shown in Fig. 4.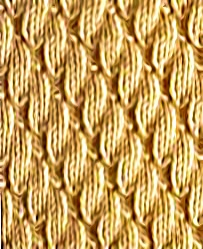 "Jacquard stitch patterns" which contain repeating patterns consisting of two or more colors are knitted on the basis of stockinette stitch pattern. For an example of a jacquard pattern, refer to Fig. 5.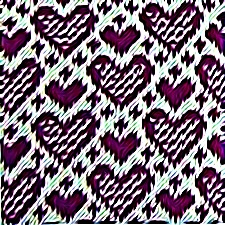 There are also so called "two-colour knitting patterns". They differ from normal jacquard patterns as yarn colors do not change over within a row but alternate each 2 or 4 rows instead. The jacquard effect is achieved due to removing some unknitted stitches in a row. For an example of a two-colour knitting pattern, refer to Fig. 6.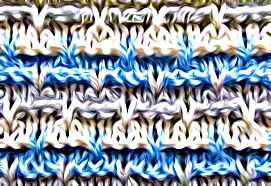 "Aran stitch patterns" are another kind of stitch patterns liked by many knitters. They are patterns which consist of different twisted elements forming "diamonds", cables", "stripes", "honeycombs", etc. These stitch patterns are bulky and suit perfectly for sweaters, cardigans, scarves, etc. The stitch patterns are made using an ancillary needle which allows putting some stitches off and knit following stitches and then return to the put off stitches and knit them too. This is how a twisted element is formed on the fabric. When putting off stitches behind or in front of the work, the direction of the twist is set (right or left). For an example of an aran stitch pattern, refer to Fig. 7.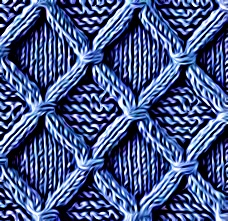 There are also lots of other stitch patterns: those based on ribs and slip or twisted stitches.
Our website offers Stitch Pattern Library where you can get to know various stitch patterns in more detail. You can use Stitch Pattern Editor which is also part of our website to create stitch patterns of your own, save them and then use them for your future projects.