Vest for men. Plus size. Free knitting pattern.
Hello, friends.
Today we publish the following free knitting pattern from our cycle (https://knitinspire.com/blog/20?c=10).
This is a vest for a man with a non-standard figure: a large girth of the abdomen and tall stature. Vest size is US 64 / EU 64 / GB 62 / International 10XL. There are many patterns free and not-free paid, but almost all of them are for standard sizes. Finding a pattern for a figure with features is not so easy.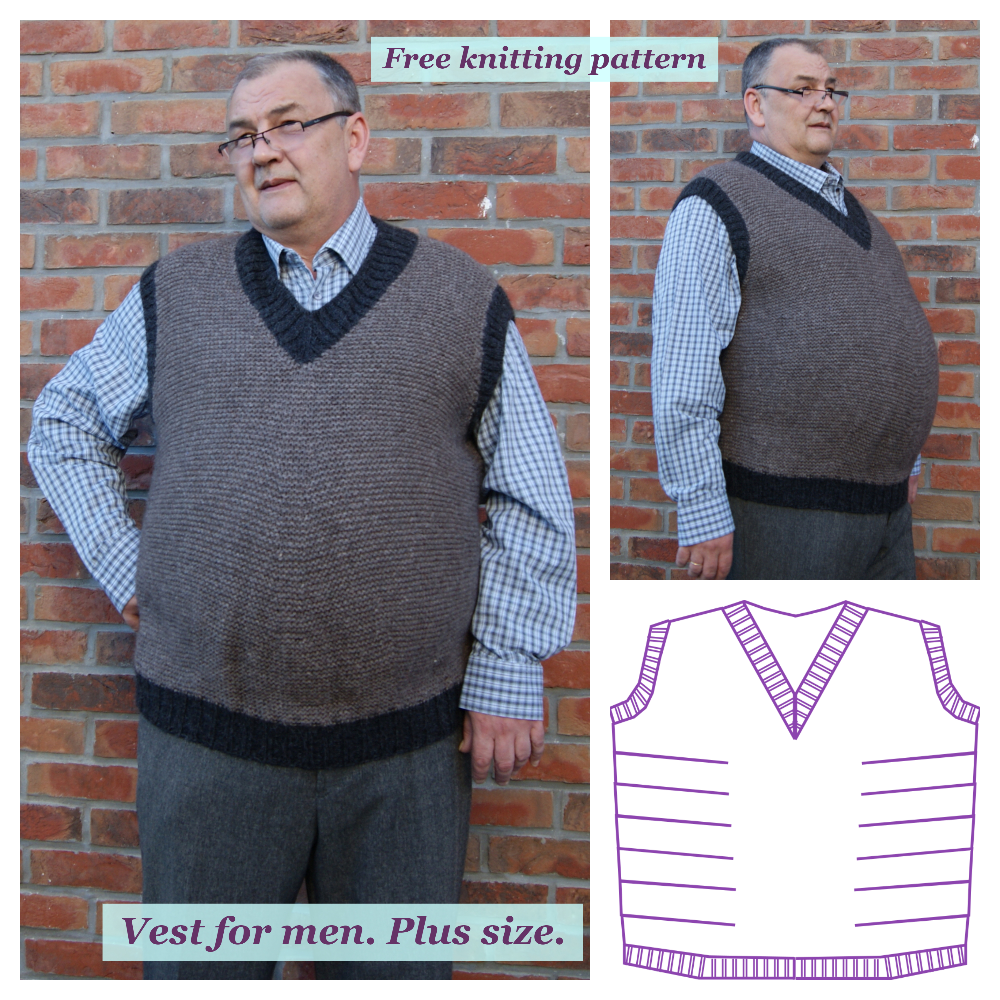 Basic dimensional data of the figure for which the pattern was created:
| | | |
| --- | --- | --- |
| Basic measurements | inces | cm |
| full length | 34.3 | 87 |
| chest circumference | 50 | 127 |
| circumference in the widest part of the abdomen | 55 | 140 |
| hips circumference | 51 | 130 |
| back width | 23.5 | 60 |
| shoulder slope | 2 | 5 |
| shoulder length | 8 | 20 |
| neck width | 9.1 | 23 |
| neckline depth (front) | 8 | 20 |
| intended ease | 0.8 | 2 |
We have previously published a sweater for a man with such a figure. The graph pattern of the vest is different from the graph pattern of the sweater. This is another option that allows you to get a very comfortable garment.
The front of the vest is widened and lengthened. If in the sweater pattern we made lengthening the central part of the front on the bottom line, then, in this case, we achieved this thanks to paired horizontal darts. The darts are located along the side seams of the part. They are arranged in parallel. The total number of tucks is determined by the difference between the length of the front and back, which we need to get. As a result, the vest is balanced in a way that the man is as comfortable as possible: the vest does not rise on his stomach during movements and there is no excess fabric on his back.
The vest has a deep V-shaped neck, which visually makes the silhouette slimmer. The neck, armholes and the bottom of the vest are trimmed with yarn of a different color.
This pattern is suitable for yarn length 120 yards (ca. 110 meters) per 50 gram (ca. 1.8 oz.) — DK yarn and knitting needles US-11 (8 mm). Knitting gauge is 16.9 stitches & 30 rows in 4 inches (ca. 10 cm) - garter stitch. The total amount of yarn required for the garment is 1495 yards (1367 meters).
If you are interested in the pattern, you can download it right here. We do not require registration or other actions from you.
If the size, style, yarn does not suit you in this project, you can fill out the form at the end of the post and send it to us. We are fast and free to recalculate the project for your parameters and send you a new pattern. You will only have to knit your garment using the pattern.
This knitting pattern was created using online knitting software.
On the links below you will find other knitting patterns from the cycle:
Comments: